The Marble House is a two-story home in Toorak (Melbourne) designed by NTF Architecture. After completion in 2016, the project was shortlisted for the Australian Interior Design Awards.
The impressive residence leaves strikingly modern and confined impression from the outside; however, the inside of the property reveals a spacious and inviting living environment. When briefing with the clients, the NTF Architecture team was presented with three requirements for their future home: to create privacy, to maximise the built given the size of the site and to create the connection with the landscape and the outdoors. All requirements were explored and evaluated in depth through various design options.
The elaborated plan that will focus the activity within the walls while maximising the use of the site, and ensuring generous and light-filled spaces inside, were the biggest challenges and key drivers for the design team. However, having a client as cooperative and dedicated to every detail as the design team, could not result in anything less than a full package of design excellence
The property enfolds an intimate north-facing courtyard hidden from views, extending to the edge of the street fence for the maximum use of the valuable outdoor area. Full height sliding doors stretching expansively on the ground level, invite an abundance of light inside and allow for an easy indoor/outdoor connection. A large terrace with integrated skylight on the first floor adds dynamic to the scene and provides an under-covered area to the pool deck below.
Much-desired privacy of the front-facing windows was achieved by reducing their head height to a datum height and by adding motorised blinds to the first floor. Not even the basement is left in the dark in this project, with a fully planted sloping light-well that connects it to the street level and provides plenty of natural light.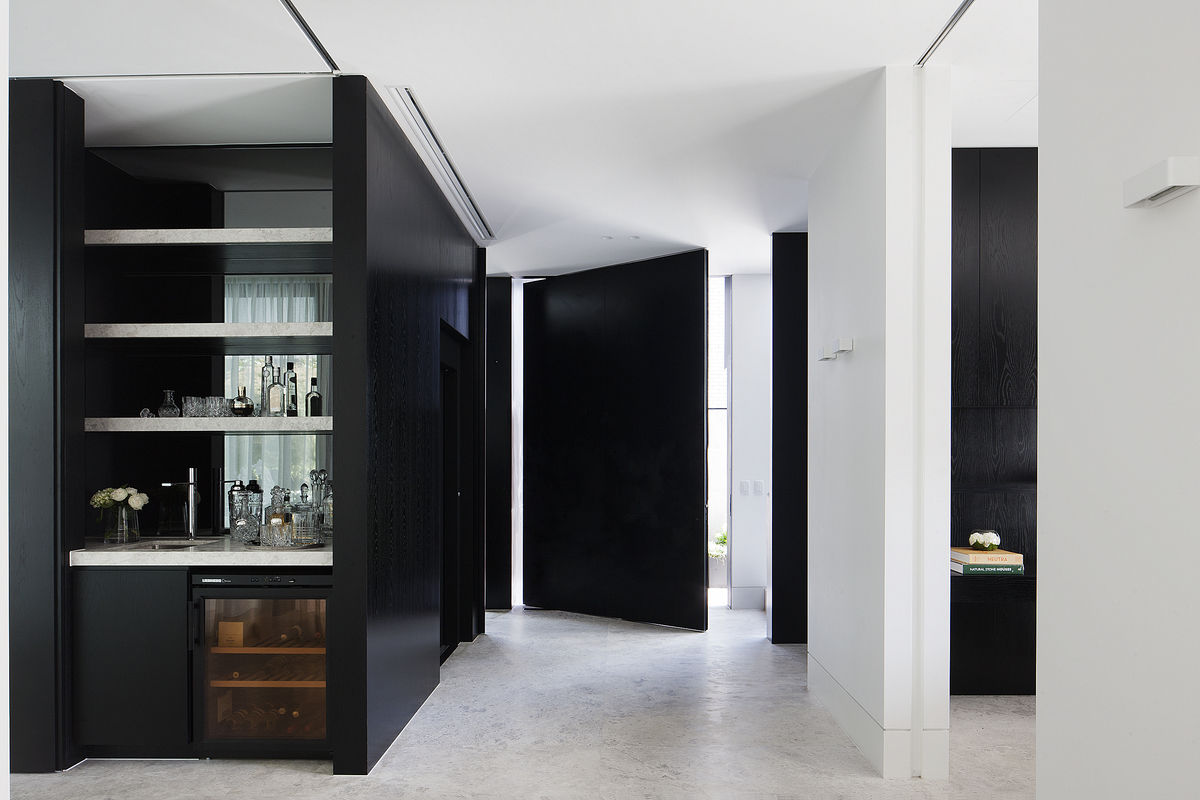 The black and white elements from the exterior architecture fluidly repeat throughout the interior creating a timeless setting. Likewise, the honed marble, a star feature of the project runs externally and internally contributing to indoor/outdoor connection.
As on the façade, the black blocks are translated to living spaces in the form of black oak joinery, which is an instance of a highly crafted complete package of work executed on this project. Refined upholstery and full-height sheer curtains add softness and warmth to the ambience. In the same way, organic shapes of accent furniture and accessories are softening the edges of the minimal and monochromatic frame. The steel detailing and carefully selected fabric colours reference external elements, while creating balance and adding visual rhythm.
The Marble house stands as a testament to the skills and expertise of everyone involved, from the design team to builders and joiners, who executed the property with the highest attention to detail, with no compromise.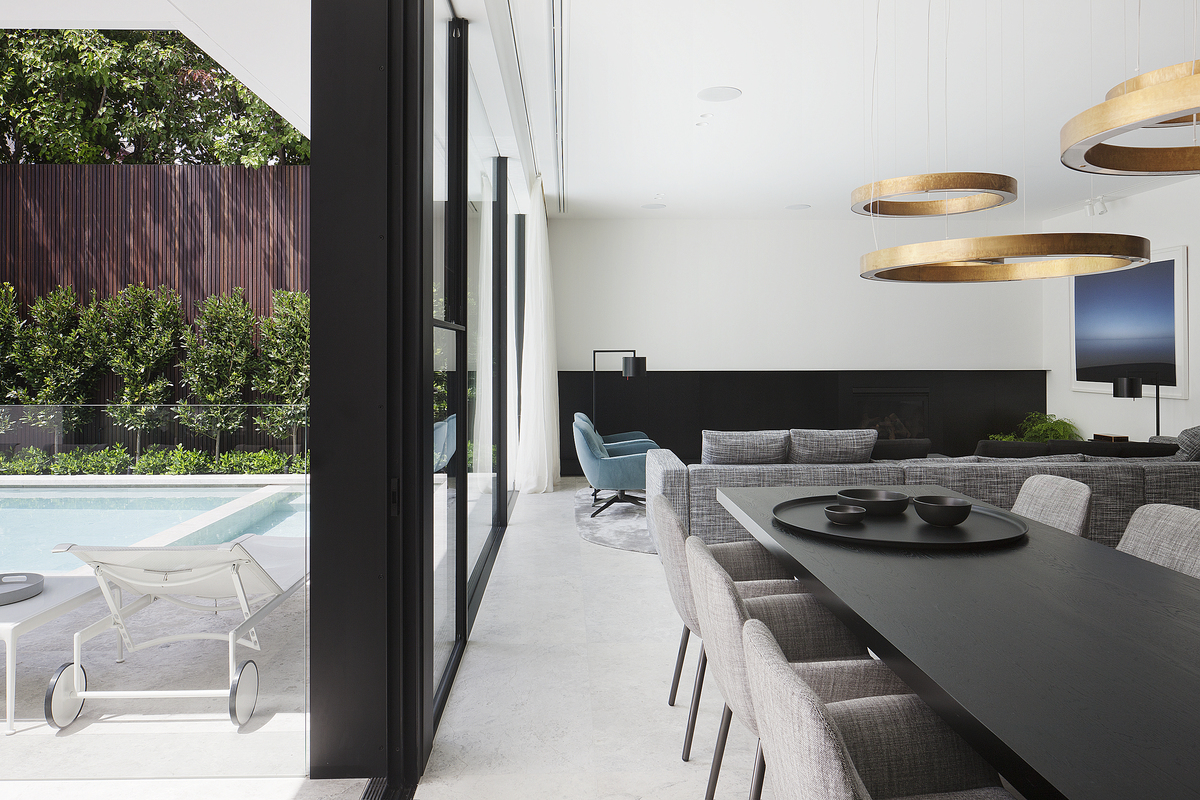 "Having a client that is as passionate about design as we are, made for a highly designed and resolved a series of interior spaces where every corner, junction and material has been considered."
NTF ARCHITECTURE